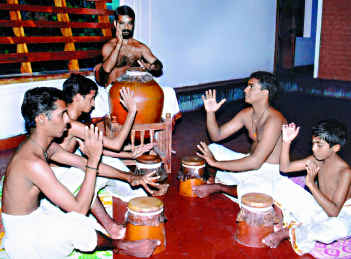 MASTERING THE MIZHAVU: V.K.K. Hariharan with his students.

While several Koodiyattom centres and institutions have been established in memory of legendary Chakiyars, for the first time a centre in memory of a mizhavu maestro is coming up at Vallachira in Thrissur. Named as Chathakkudam Krishnan Nambiar Mizhavu Kalari, the centre is coming up on a plot adjacent to the house of this late Guru at Chathakkudam.

The 20th century history of Koodiyattom is incomplete without devoting at least a couple of chapters to the late Chathakkudam Krishnan Nambiar who was a mizhavu maestro.

Magic of percussion
While actors of Koodiyattom, mostly the Chakiyars, are lauded and widely honoured, hardly a few art aficionados bother to appreciate the musicians who inspire the actors to create larger-than-life characters and mesmerise the audience with the magic of percussion.

Today, Krishnan Nambiar has almost been forgotten even by those who once reigned on the stage on account of his rhythmic support. His beats created the right ambience that evoked the best from the actors; from portraying the greatness of Kailash to the vibrant movements of characters like Ravana, and so on. Mizhavu comes under the Avanadha Vadya category described in scriptures like the Natyashastra.


Legend
The legend goes that while Swati Maharshi was fetching water from a pond next to his ashram, Devendra, the Lord of rain, created a heavy downpour. The Maharshi was enthralled by the captivating ensemble produced by the rain drops on lotus leaves, which resulted in the formation of Avanadha Vadyas, thus goes an old story about the mizhavu. A huge copper vessel constitutes the body of the instrument and its mouth is covered with soft leather of heifer. Centuries aback, the body was made of specially baked clays.

It was the late Guru Paimkulam Rama Chakiyar, a great visionary of Koodiyattom and Koothu, who brought these art forms outside the precincts of the temple for the first time and taught them to members of other communities, amidst strong opposition and protests.

While Rama Chakiyar expanded the horizons of this art form, it was none other than Chathakudam Krishnan Nambiar who wholeheartedly supported Rama Chakiyar in this endeavour and accompanied him as a percussionist.

Like Rama Chakiyar, Krishnan Nambiar too was very progressive but at the same time he was quite traditional when it came to his art and was a perfectionist. The most outstanding Nangiarkoothu exponent of today, Usha Nangiar, is his only daughter. Nambiar passed away on January 12, 2001.

The centre is being built on the initiative of V.K.K. Hariharan, son-in-law of the maestro, who is also a mizhavu exponent.

No Government support
Interestingly, the entire effort is being financed by the couple without any sort of support from any Governmental or other bodies.

The memorial Kalari was formally inaugurated by mizhavu guru P.K. Narayanan Nambiar on May 2, 2004. The new building will be ready by the end of this month.