Tolpava Koothu, the unique shadow puppet theatre form of Kerala, South India, is preserved as a family tradition by the Pulavars.
It is an ancient peculiar ritualistic art form dedicated to Bhagavati, worshiped by the people of Kerala as the Mother Goddess.
As a ritualistic art form, Tolpava Koothu is performed during the months of January to May at the especially constructed theatre called Koothu Madam in front of the Bhagavati temple.

The performance starts at about 10 p.m. and goes on till day-break. It will be enjoyed by the general public as a popular entertainment while it will be received as a religious offering by the devotees.

The puppet plays are based on selected verses from the famous Tamil Epic ''Kamba Ramayana'. The language used is a dialect of Tamil with an admixture of Sanskrit and Malayalam words.

The Puppets are made of deer skin and are held by a thin stick in one hand while the limbs are manipulated by a thinner stick held in another hand of the puppeteer.

About 160 puppets are used for the complete version of the "Kamba Ramayana", representing 71 characters in four main categories (sitting, standing, walking, fighting) besides puppets to depict nature, battle scenes and ceremonial parades.

The screen is illuminated by 21 lighted lamps, made out of coconut shelves, filled with coconut oil, provided with cotton wicks and placed equidistant from eachother on the Vilakku-madam (wooden beam) behind the curtain.

Ezhupara, a cylindrical drum made out of jack-fruit wood and covered with calf-skin on both ends and Ilathalam (cymbals) are the main accompaniments. Shankha (conch), Chenda and Maddalam (drums), Chengila (gong) and Kurum-kuzhal (a short pipe) are further instruments to be used on special occasions.

Depending on the temple tradition, the performance lasts 7, 14, 21, 41 or 71 days. Tolpava Koothu is still performed in more than 100 temples all over Palghat, Trichur and Mallapuram district.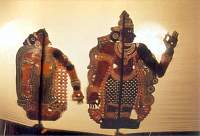 The troupe is made by at least eight artists. Although the training is not confined anymore to the Pulavars, all the puppeteers have to be experienced in all branches of knowledge, as the presentation of the story will be full with references to present events and wisdom.

The troupe at Koonathara, founded generations back and revived by the renowned and award winning Tolpava Koothu artist late Guru Krishnan Kutty Pulavar, is now the only surviving Pulavar family in Kerala to preserve the art form and train new artists in the traditional repertoire as well as in new productions. The training includes the making of the puppets also.

While during the season the artists are fully engaged to present the art form in its ritualistic context, the Koonathara troupe has started to explore the aesthetics of the art form outside its ritualistic context by introducing new plays and new characters based on contemporary issues and performed outside the Koothu Madam.
The leader of the present troupe is K.K. Ramachandra Pulavar, eldest son of the late Guru Krishnan Kutty Pulavar, assisted by his brothers K. Viswanatha Pulavar and Lakshmana Pulavar.

Koonathara is a village in Palghat district in the middle-east Kerala and close to the world famous Center for Indian Performing Arts & Culture, Kalamandalam, in Cheruthuruthy.
Located about 130 km from the Cochin International Airport it can be reached by bus or car from the railway junction Shoranur (7 km)